---
It's always an engaging experience to look back at ones previous years posts and see how the three words written in January set the theme for the year! Did we stay on track or did "new" themes and variations take over during the year.
Interesting how the way things look in January may have a different shading on them in June!
So, heading back out onto the limb, here is my 2014 theme, and some of its variations:
ORIGINAL
Original.…as in original content.
It's so much easier to regurgitate what others are saying and doing than to create something original….
In writing blog posts: I wrote nearly 40 original guest posts in 2013, and I plan to continue and increase my focus on original writing.
In architectural design: It's challenging to do anything at all that hasn't been designed before, but original design might mean simply a different spin on something ~ perhaps it's the experience of analyzing a design in great detail so as to incorporate some of it into your scheme that's different!
Original doesn't only mean thinking out of the box (or even shredding the box), you can be original inside the box; think about that!
EVERGREEN
Evergreen has several significant 'green' variations: it means timeless, as in when you write something which still has context and meaning several years later, sometimes even centuries later.
Evergreen means designs and actions which keep the environment or planet "green", such as 'building green' or collecting rainwater to sustain life!
Recently I have created a new meaning especially relevant for me: designing and marketing an Evergreen Experience; integrating an evergreen experience into our architectural design; integrating a variety of "green" products seamlessly together, integrating that into the whole experience.
Remember when the outhouse was just that; outside? Then it was integrated into the building with inside plumbing (not with out difficulty I should add, as resistance to the "dirty" outhouse coming inside was considerable) More recently the 'bathroom' has morphed into the "home spa", an aspirational design so desirable as to be featured on the covers of top design magazines. Mindsets can change! (only took about 150 years…)
Can we do the same with solar panels (frankly unattractive, and often banned by communities for being unsightly and spoiling the uniformity (or is that conformity?). Can we change people's mind about rainwater harvesting tanks, typically ugly green plastic tanks, often relegated to a hidden spot well away at the back of the lot? Hopefully in less than another 150 years….
EXPERIENCE
If I were writing the one-word-post, my ONE WORD would be experience.
Much has been said and written about customer experience in 2013; hey! a new idea; not. It has our business focus for over 25 years. This post by my online friend Joe Ruiz says it all: Is a Memorable Customer Experience a Differentiator?
After being somewhat skeptical, I finally embraced the idea of the  "shared" experience, as in the shared economy. ZIPcar, airbnb, instagram, et al; and realized that every social platform is sharing information and experience.
Share my Christmas eve sunset experience?
This shared-experience trend is going to be huge in 2014 and beyond! Think how your company or personal focus can hook into this sharing point-of-view!

How would you share an evergreen experience, or better yet an original evergreen experience?
If you hadn't already guessed, our new company is the original evergreen experience (Dot.com coming soon)

Stay tuned, these might be my three words for the next decade!
You're probably curious and want to share; here's what others are saying in their three word posts for 2014
@ChrisBrogan's #mythreewords Blogathon 2014
@ChrisBrogan's #mythreewords Blogathon 2014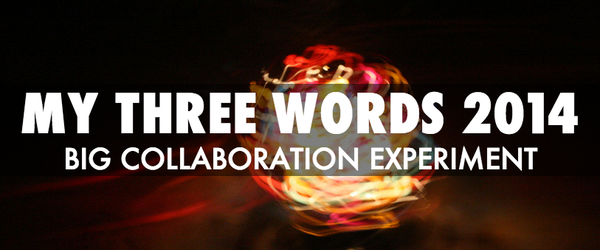 Add you post or just your 3 words, Tag with you 3 words, separated by commas
1

3 Words For 2014

Relationships Create Movements

corporate responsibility, social causes, relationships, community, networking

Added by Tim McDonald on Dec 24, 2013

2

Jen Olney ~ Every New Year the tradition is to set your resolutions by January 1st and usually by January 3rd you've probably broken those resolutions. Why not instead pick a theme for your year? Fellow SteamFeed'er and Co-Founder of List.ly Nick Kellet has started a campaign inspired by Chris Brogan called #MyThreeWords.

Added by CASUDI on Jan 03, 2014

3

#MyThreeWords #2014

Flow, Innovation, Evolution

Added by Judy Martin Martin on Dec 28, 2013

4

It is the beginning of the new year and as per Dr. Seuss in the book Oh, The Places You'll Go!, states: "You have brains in your head. You have feet in your shoes. You can steer yourself any direction you choose." And this is so true...

Added by dorlee m on Jan 02, 2014

5

My Three Words for 2014

Added by Ria Bartel on Dec 25, 2013

6

My favorite web development in 2013 was the launch of list.ly. Early in the year, Lutheran Confessions had the honor of ending up 39th on a popular list of Christian blogs you should be reading. Thanks to Christian Piatt for creating that list.

Added by Clint Schnekloth on Dec 30, 2013

7

Three words can drive momentum, maintain focus and prioritize your efforts! Will you take the Three Word challenge? Credit Chris Brogan For This!
These are mine: Sensation. Promotion. Veracious.

Added by Hannah Morgan on Jan 02, 2014

8

Posted by Jacqui Barrett-Poindexter, Master Resume Writer in Chris Brogan, My Three Words, New Year Goals on Dec 30th, 2013 | 4 responses By Jacqui Barrett-Poindexter Each year, Chris Brogan, Publisher of Owner Magazine and CEO/President of Human Business Works, blogs about his 3 Words for the new year.

Added by JACQUI BARRETT-POINDEXTER on Jan 03, 2014

9

Well! It took me a lot of soul searching to find my One Word! Now three? Fearless, is the One Word chosen to represent our 90 th Anniversary year in 2014. It only follows that #MyThreeWords for 2014 are Be. Fearless. Now!

Added by Amber-Lee Dibble on Jan 10, 2014

10

My three words for 2014 are "Big Collaboration Experiment". This is my third #mythreewords. I started with "I Love You" in 2012 and "Be Worthy Together" in 2013.

11

3 words for 2014

SOAR LIKE EAGLES

in 2014. :)

Added by Ali Rodriguez on Dec 24, 2013

12

13

See the Glog! My three words 2014: @chrisbrogan's, my three word | Glogster EDU - 21st century multimedia tool for educators, teachers and students

Added by Mineva Rositsa on Dec 24, 2013

14

15

16

It's always an engaging experience to look back at ones previous years posts and see how the three words written in January set the theme for the year! Did we stay on track or did "new" themes and variations take over during the year.

Added by CASUDI on Dec 30, 2013

17

My 3 Words for 2014 | Pastor Joe McGarry Since 2011 I have participated with picking 3 words to help guide my year. This idea has come from Chris Brogan and it has helped keep me focus on my goals throughout the year.

Added by Joe McGarry on Dec 31, 2013

18

19

20

My Three Words:
CIRCLES CIRCLES CIRCLES

Added by Trace A DeMeyer on Dec 24, 2013

21

Ask What If...?

Rather than starting with answers, we figured out how to ask better questions. What If...? is an experiential platfor(u)m where new ideas are heard, shared, and built together. We're riding the future with active curiosity

Added by Matt Murrie on Dec 24, 2013

22

Believe, Achieve, Succeed - 2014

These are my (3) Words to live by for 2014: (This is the meaning to me.)
If you BELIEVE that you can ACHIEVE your wildest dreams, then you have no choice but to SUCCEED.

Yours in Health, Fitness Life and Business.

Added by Tom Townsend on Dec 25, 2013

23

Serve - Speak - No

These 3 words will help me steer thru the waves to come in 2014:

"Serve" - because I intend to focus on serving others with energy, making a meaningful difference to them & to myself.

"Speak" - because I intend to invest effort to attract invitations to speak at conferences, un-conferences, workshops... + practise the art of serving audiences well.

"No" - because I need to say 'No' to most of the stream of ambitious projects I cook up with others + find a good way to share big ideas with others, so they may run with whatever they fancy.

Added by Paul O'Mahony on Dec 25, 2013

24

25

Add you post or just your 3 words, Tag with you 3 words, separated by commas

Added by Ali Rodriguez on Dec 26, 2013
4 Responses to "Original Evergreen Experience My 3 Words for 2014"
Leave a Reply