---
I am neither a cultural nor an economic expert on China, yet many of my friends have asked me to recount my April visit to China. I even received a list of written questions prior to my trip related to the global economic downturn, China's stimulus, and questions of education.
One of the highlights of my visit to China was arriving in Hangzhou and meeting my friend George, who introduced me to three leading Chinese Interior & Architectural Designers who comprise the two top Hangzhou design studios. I also met Yao, a product design student, and Bill, who works for George in his environmental company, and who showed me around Hangzhou's Westlake in the pouring rain!
George is a handsome young, upwardly mobile, single, entrepreneur; born in China and educated in Canada, who has created a very successful company selling an environmental product. I would say George is quite typical of young Chinese, educated in the West, who see great opportunities in a return to China.
Mr. Chen is already a well known designer in China; even more so since publishing a book, and has won many design awards. Although he is known for "luxury, modern" style, he insists his style is quite traditional and symbolizes China's long history and culture. He enjoys mixing Eastern and Western styles, and combining old and new.
His studio is a "walk–up penthouse" at the top of a 22 story office building, three floors above the final elevator stop. It is certainly one of the most amazing design studios I have ever visited; white Italian gesso walls, glossy black painted wood floors, a 30' long Koi pond (real!), and a mix of antique & icon modern furnishings, heavy on designs of Philippe Starck. We exchanged design philosophies and areas of design focus, and ultimately realized we were just speaking "design", hardly requiring my friend George to translate!
In contrast, the design office of Mr. Sun and Mr. KD was a no less remarkable loft-style space, showcasing metals with a variety of finishes, icon modern furniture, and a Macintosh big-screen workstation in the middle of a large worktable. The partner's office was situated on one of multiple floors of open offices and workstations, all created as part of a renovation of an old industrial building, where the 'patina' of long and heavy use was evident. Those familiar with our own INCLINEDESIGN design will realize how fortuitous was George's choice for me to network with these particular designers; each design studio with very distinctive but quite contrasting design styles, and very harmonious with our styles!
Based on the very positive conversations I had with the designers, we could be doing projects with them in China in the not too distant future.
Later, George and Mr Sun introduced me to a converted textile factory, repurposed for a variety of design and architecture offices, photography studios, and design stores. We had lunch in a cafe where the industrial artifacts from the textile business had been artfully incorporated.
We toured an upscale, gated residential community, which could have been anywhere in California, or Texas, or West Vancouver!  The design and landscaping were all straight out of your local design publication, and the cars were a tight mix of Benzes, Range Rovers, and Porsches. Tres Malibu!  We also toured an up-scale condominium project under construction by the #1 Chinese developer Vanke; with a surprisingly sophisticated sales presentation office, flooded with buyers on a Saturday afternoon; just as I might have seen anywhere in Vancouver BC in 2007!
When I visited Shanghai a few days later, our group met at E-House, a hot growth company in China, which does the marketing and sales for Vanke and many other major RE developers in China. The management at E-House confirmed that the RE sector is benefiting from the Chinese government's stimulus plan, and increased bank lending (the very opposite of our situation in the US), as developers are receiving much needed funding and construction loans to complete their projects. This is creating a surplus of housing, which, although putting downward pressure on home prices, is drawing out the pent-up demand from buyers. At this point, the stimulus plan seems to be working.
The property sector is one of the most important segments of the Chinese economy, and its strength bodes well for a strong economic recovery for China in the coming months. That's because a recovery in China's real estate sector generates employment, boosts manufacturing and trade, and general economic growth. And, of course, the strength of the Chinese real estate sector leads to booming business at E-House.
The vehicle traffic in Hangzhou is a sequence of wild driving and stop and go bottlenecks; the air was filled with dust particles from the frenzied construction, and emissions from (largely) stationary traffic. Although the air was oppressive, I did not see too much evidence of an economic downturn in this city of 9M people, a 2 hour drive from Shanghai; a city noted for its cultural attractions, and noted for hatching multi-millionaire entrepreneurs.
Next stop Beijing, where I joined my friend Robert Hsu from LA, on his latest China Strategy tour. Education appears to be climbing toward the top spot on the list of concerns of most urban young Chinese parents, and we had the opportunity of visiting two education companies and hearing about a third.
We visited Oriental Education and sat in on a couple of classes. Oriental Education teaches students "how to pass exams", and also teaches English. Passing exams is critically important for a student, as the limited number of university places in China are hugely oversubscribed. Parents are eager to pay for Oriental Education classes, to ensure a university place for their offspring!
The second company we visited was ChinaCast; a distance learning company, with content distribution via satellite and the internet. ChinaCast has government approval to broadcast accredited university classes to students in geographically distant locations, eventually resulting in a university degree. This just begins to solve the problem of limited university space for students, as college enrollment between 1998 & 2008 increased at about 18% per year (3.4M to 20M, ©WSJ).  ChinaCast broadcasts to regions in the far west, making it possible for the many remote and agricultural regions of China to begin closing the educational and information gap with the more developed urban areas.
My friend Nelson told us about the third educational company. I met Nelson in 2006 on my first visit to China, and he now has an 18 month old daughter, whose educational future he is already planning! SHANGHAI HUASHEN INTERNATIONAL EDUCATION CO., LTD.  I heard from George, from Robert, and read in James Fallow's book "Postcards from Tomorrow square", how important they think it is for young Chinese to experience western culture, to gain workplace experience, and for some, education in the west. SHIE provides a global high school exchange program, which does just that. SHIE arranges for high school teachers from the US, UK, Australia etc., to teach in Chinese high schools, and Chinese high school students to study in & graduate from Western high schools.  I like the program because it is well funded by the parents of the students who participate. I will write more on SHIE later this month, when I have more details from Nelson.
For several years I had been excited by images in architectural books of the houses at The Commune at the Great Wall, so this trip I made a detour from our group to see it for myself. The Commune at the Great Wall was developed by Zhang Xin between 1998 and 2002, when she commissioned 11 Asian designers each to design a house, situated in a rugged hilly location within view of the Great Wall. These houses, while privately owned,  now function as a resort.  In my opinion however, it is really a monument, or series of monuments, to design. At first glance it's very impressive, with unique expressions of 'house', 'home', 'dwelling'. On closer inspection though, I found them somewhat disappointing. Possibly due to their ultimate function, they lack much of a 'residence' feel, and seem a bit barren, very much like 'public spaces', vaguely 'museum-like'. And to get really nit-picky, the quality of construction is unfortunately lacking, and from what one reads, certain of the designers were in fact quite disappointed with the implementation of their visions, as indeed I might have been.  It's a fascinating concept, and the pictures I took, during the only sunny afternoon of my entire trip, give a somewhat enhanced view of the project. All in all, I had a great time, with a very informative and attentive guide.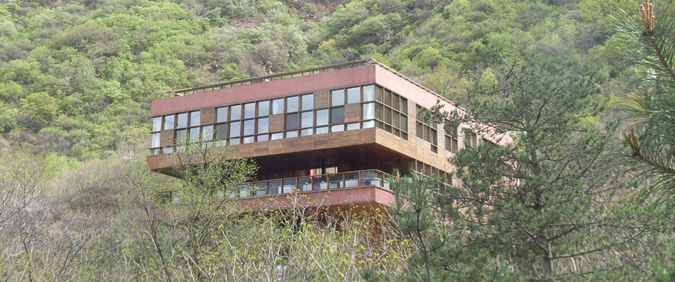 My friend Robert always takes us to the very best Chinese restaurants when in China, and in Beijing it was no exception!  We had dinner at Lam, a restaurant with a $30M budget!, designed by my idol Philippe Starck!  You can read my review on Twine. Interestingly, inadequate or just plain bad service is more the rule than the exception in China I found, and something both Robert and George complained about incessantly! There is an obvious challenge, and opportunity, in bringing the awareness of "customer service" to a population segment who has been brought too abruptly into the new age China; who are in essence 'cultural misfits' and will remain such until they are both trained & assimilated. Since hospitality and service industries employ mostly very cheap labor, and the customers & clients are still rather forgiving, this is a back burner priority, or so it seems to me right now.  However, priorities WILL change.
I made three internal flights within China, and each flight was jam-packed. I asked Nelson, who was traveling with us, 'how on earth can all these young people afford all this air travel?'.  He said it was in part the stimulus money, which was given with certain requirements; one being that it had to be used on air travel, before a certain date. Other stipulations I seem to recall, included making purchases in certain stores.
In China "trust" in business appears virtually non existent, and was another pet peeve articulated by George, and several others including James Fallows. "So different to doing business in Canada", George said, "where all business dealings are based on trust". George has adopted many Western cultural traits, and though he is very successful in his own business, he finds some of the existing Chinese business ways extremely limiting. Perhaps this is why he feels so strongly about cultural exchange.
While in Shanghai I caught up with my Vancouver, BC friend Bryan, who spends 2 weeks every month there. He is a VC, and extremely optimistic about investing in China. He put on a great dinner for George, Robert and myself and introduced us to his China-based partner Gregory.
Of course investing in early stage companies anywhere is "risky", in China maybe riskier than elsewhere. However Bryan gave us some background on how he and other successful private VC funds perform their due diligence, often in partnership with each other. Bryan attributed their many times-over successes to very thorough due diligence, and timing.  He was very confident they had winners in the pipeline. Gregory told us why he chose to move to Shanghai with his family permanently, saying: "if you want to get something done in China, you can get it done really fast". And getting deals done is what Bryan is good at!
The air pollution in  Shanghai, Shenzen and Hong Hong was  at "Dangerous to your health levels" when we were there and must most certainly top the list of concerns after Education!  However, in my opinion this crisis will bring enormous opportunities in the Alternative energy space and I really hope its resolution will happen sooner rather then later! Health care is also on the top list of concerns of the Chinese people I was told; this also will lead to opportunities and when resolved, I would think release the savings put aside for health care into the economy for consumption spending?
Shenzen was nothing like I expected, (and neither was the bout of food poisoning I suffered!)  My only view was from my hotel room; however Robert confirmed that like Beijing and Shanghai, Shenzen was benefiting strongly from the Chinese stimulus and did not appear overly affected by the global economic downturn.  Our group visited Mindray Medical, a cost-efficient maker of medical diagnostic and testing equipment; which can often undercut the competition by as much as 30%. I was told that sales of equipment within China is only slowly compensating for a global sales contraction, however the China Strategy group seemed quite impressed with the company for the longer term.
I returned to Canada via Hong Kong, so I took the opportunity to visit Macau, which I had missed during my previous trips.  Since I spend some time living on a ferry-served Island in the US, I started making comparisons as soon as we reached the very slick Hong Kong terminal. Macau is a 45 minute ferry ride from Hong Kong, and both the terminal and ferry were filled with young affluent Chinese (Robert has coined the term "Chuppies") from both Hong Kong and the mainland headed for Saturday night at the casinos.  Our first stop was the Wynn, perhaps my favorite casino interior design. The luxury shops, including a Ferrari Store, were glittering and endless, but seemingly devoid of customers, and the Casino was about 60% capacity (for a Saturday night?). Next we headed to The Venetian and the Four Seasons, and on the way noted several large, unfinished casinos lurking in the the landscape like a great ghost city!  No one was taking advantage of luxury shopping at exorbitant prices in the Venetian or Four Seasons either; the casinos were far from filled, and we enjoyed strolling under the blue skies of Venice (courtesy of illusionary projection of sky and clouds). Macau on the whole is rather more spaciously designed and laid out than Las Vegas, but it seemed to us that it had been way over-built during the recent economic bubble. Robert's opinion is that it will not return anytime soon, if ever, to the ultra-affluent, filled to capacity days of 2007.  I AM however waiting expectantly for the 70% off sales in those luxury stores!
Please check  my complete list of China slideshows if you are so inclined and thanks to all my friends for making this such an enjoyable and enlightening trip.
Please write comments below or email me at casudi@esse-group.com and of course, find me on twitter@CASUDI.
Caroline Di Diego
www.inclinedesign.info
INCLINED TO DESIGN
2 Responses to "CASUDI IN CHINA: IS CHINA'S STIMULUS WORKING?"
CASUDI Says:
June 9th, 2009 at 5:49 pm

I received an email from Dan Harris just after posting this. He loved my post (his exact words) and he said he was going to use part of CASUDI IN CHINA: IS CHINA'S STIMULUS WORKING? in his upcoming China Law Blog.

Here is the link to Dan's post:
http://www.chinalawblog.com/2009/05/china_auto_hyundai_or_yugo.html

Inclined to Design Says:
December 16th, 2009 at 8:58 pm

[…] struck me as much more so in China, and even more intense than on my previous visits (2006 & spring 2009). This time what caught my attention the most was the cool little 6" X 9" screens on almost […]
Leave a Reply