---
I designed and built my kitchen in 2003, so I've had eight great years with it. Am I qualified to review how I might have done it differently? YES. And of course, "Hindsight is 20/20″
The kitchen #intdesignerchat twitter chat several weeks ago was an excellent discussion between a number of savvy interior designers who had up to date input on kitchen design and related client issues. At the end I suggested we should each do a "show & tell" of our own kitchens. No takers so far, so I decided to lead the initiative, and really hope/expect others will follow?
So here goes: Is your kitchen design still working? Was it ever designed to work and harmonize with your lifestyle in the first place? Have you evolved and has your kitchen design remained static?
Yes, mine is working great, and still in sync with my lifestyle. The layout works; everything is in the right place for my 'inventive' cooking style. The extra distance we created between the sink and island counter is fabulous when you consider that we frequently engage in "team" cooking; this was actually an experiment, and it's often not feasible to have over five feet between counters.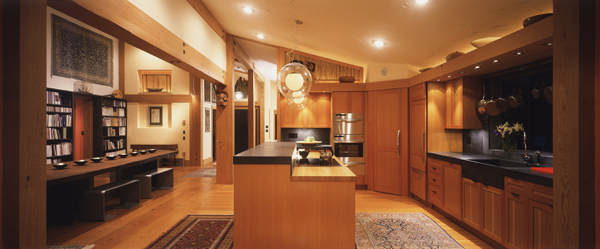 The raised bar on the island works equally well for informal coffee guests (served as many as 14 with our Miele-Nespresso machine), wine before dinner (always), cooking demo's (something which happens inadvertently to me; cooking as entertainment….. I guess I like to ham-it-up), and iPad & laptop work stations (yes, most computer work is done standing up). The added benefit is that it hides lots of "stuff" behind the raised portion, for that magic 'first impression'.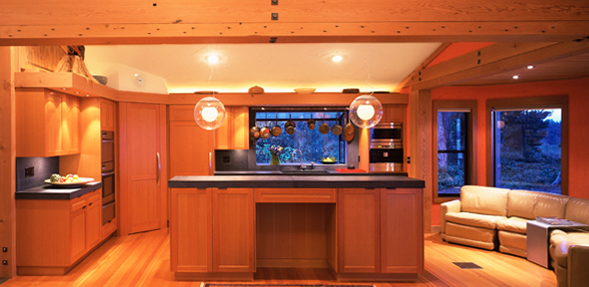 Details I like (& would do again); are the Miele appliance handles used on the refrigerator & pantry doors (adding unity and consistency);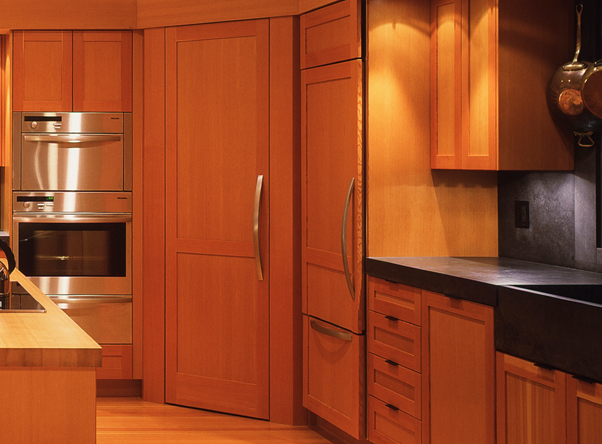 I love the Meile Ceran cook top, and the steam oven (you've never tasted veggies like these). Everyday we enjoy the curved sofa/seating area (covered in antique leather) conveniently next to the espresso station, and the heated shelf behind the sofa, is enjoyed continuously by our two Burmese cats (see second image above ~ curved sofa in window). I couldn't live without indirect lighting above the reclaimed wood soffit; it's on 24/7 and a necessity in the long, gray NW winters.
I still love and enjoy my kitchen as much as the day I designed it……. Yet after much use, I would have done a couple things differently:
You never really know how things work out until you live with them; and more than live; really use them ……Well, after a few years I don't like the unfinished (patina-of-use) look of the Fire-Slate counter tops. I should have made the farmhouse-style sink even deeper, it's minimal at 7.25″, and would have been ever so much more user friendly at 12″. A pretty big deal: I would not choose Miele appliances again; the quality is not what it used to be, & service….well that's another story. My Sub-Zero refrigerator is too small, and so expensive…. Another big issue is the use of resurfaced, original cabinetry. Why indeed did I try and save money here? I ended up restricting the ultimate layout (it's great, but I know it could have been even better), and compromising on the actual quality of the cabinet interiors; just a bad place to save money. The amount of money saved was not worth it, and in the end may actually have cost just about same as all new, considering all the effort trying to make the "kept parts" fit into my design.
What else would I have done differently? 1) I would have found a way to have 2 dishwashers, something I love to do for clients. 2) I would have installed a plug strip inset under the cabinets (rather than backslash outlets) 3) I would definitely have designed in a bigger refrigerator in the kitchen, 4) I would have had a deeper sink (previously mentioned) 5) I might have chosen Jenn air or Gaggenau appliances 6) I would have put a sealer finish on the Fire-Slate counters (may still do), or selected a Caesar-Stone type of product; something my clients have been so happy with. I had a crème-colored Corian in my previous kitchen, which I enjoyed for 17 years, so I should have known. 7) And finally I would use a marine epoxy finish on the kitchen floors. They really take a beating, and this is something on the future to-do list. Some things you can fix easily, and others not at all without starting from scratch again ☺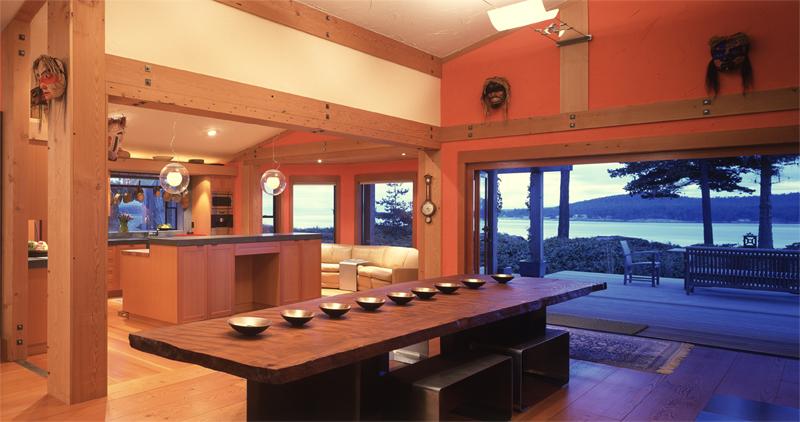 When designing for someone else, how do I go about determining the right kitchen? The "virtual" walk-through ~ a day in your life's relationship to the kitchen……it's a collaborative process, and working together we define the flow most suitable for the individual, couple or the lifestyle of the family (and don't forget the kids) Sometimes I get, "we don't cook, we almost always eat out, and when we don't it's because we brought it in". Ahhh, one of my favorites: a "reservation kitchen" (all show and no go)….A kitchen for the caterer. However, when I dig behind the "we don't cook", I might find a teenage son or daughter with aspirations of becoming a chef!
With the profiling of the family complete, we can embark on the concept designs, and onto review, discussion and selecting all the good stuff. Kitchens are often the most fun, and a design/function focus where the entire family can contribute.
What would I do tomorrow? Here's an idea: watch this video by Corning, and find out some cool ideas!
Is your kitchen design still working? Was it ever designed to work and harmonize with your lifestyle in the first place? Have you evolved and has your kitchen design remained static? Would you be willing to do a "show & tell" post?
OK, this is a very niche post, but just think how these questions might be applied to just about anything "design related" and not only….. Was your BLOG actually designed to work and compliment your business? Have you evolved as a business and your BLOG remained static?……
CASUDI ~ Designing Success
More about this project:
Interview with the Designers (Chinese)
19 Responses to "HINDSIGHT IS 20:20"
Leave a Reply