---
W

hat kind of experience are you expecting from working with your web designer?
Will your designer guide you seamlessly through the design process? Will it be a fun, collaborative experience? Will you end up with a website you love, or more importantly, a website your customers and potential customers love? Will your customers return again and again for the useful information you provide?
Every business needs to focus on the experience of their customer, and web design is no different. Most often clients want a website that attracts, sells, or at least begins the selling scenario. So, what is the process designer and client need to go though together to provide a great experience for the web design journey that results in an excellent user experience for the client's online web presence?
Idea and Concept
Like most things, it all starts with a great idea, which you the client bring to the table, or your designer has in mind for you based on your preliminary input. We have often created quick mock-ups to demonstrate our concepts, although be careful; some clients get so fixated on this initial concept they can't move onto something better! So as a web design client, keep your mind open for options, and iterations, although of course it's very reassuring to see something more or less appropriate right at the start!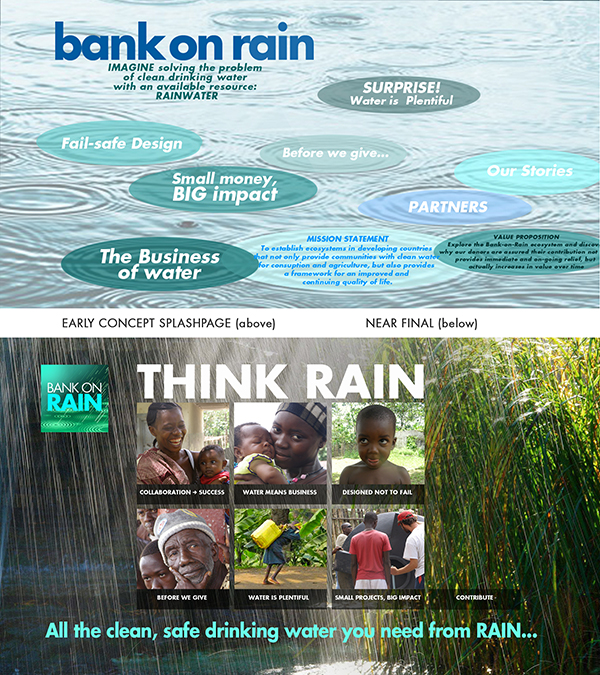 Scope of Work and Budget
If you don't have a clue what you want or what it takes to get an effective website up and running, this is where you have some 'fun' learning what it takes. Learning the steps of your project, articulating what your expectations are, and hearing what your designer expects, should not be rushed. Collaboration and learning are supposed to be fun. The better you understand the scope of work the more time efficient everyone can be and the better you will comprehend the costs. Take the time to understand the web design and implementation process.
As the project evolves you will likely decide on changes or additions you need, so with this the scope of work changes, and the budget grows. To avoid disputes later make sure you understand which changes will cost extra as the project progresses. Know what is included and excluded, and make sure you are in agreement on this with your designer. Having clear expectations at the very start, and a clear channel of communication to your designer whenever you need it, will be the difference between a happy or unhappy experience.
Remember the discussions at the project beginning set the stage for the whole project. This is where the sitemap architecture comes into a play; it's a road map to make sure you and the design team are on the same page.
Understanding and Profiling Your Customer
If you're not in the data analytics universe, then it comes down to asking the right questions to profile your customer. This has always been one of my favorite parts, getting to understand my client's customers and potential customers.  Asking the right Questions here is crucial to your success. Understanding your audience will influence your  design, content and the way you present it and of course where it is seen.
Your Customer Experience
Designing your customer experience, while having a great experience yourself; that's the key here. Having profiled your customer you have a clue where they hang out. If they are only on their mobile phones, then focus your design for mobile. If they visit your website via several devices, you need to design a seamless experience across the complete digital universe, wherever your customers are… and not only seamless, but user-friendly and enjoyable.
As a designer this is one of the most interesting and often challenging aspects of design; putting yourself in the shoes of the website visitor. What do I want to see; what do I want to feel; what will keep me engaged; and how will you inspire me to action? Is the experience meeting my expectations? I love the discussions with my clients about this, brainstorming and thinking it all through. The success of collaborating with your designer depends on them understanding your POV and your customers, and you answering the questions about your business and your customers in a real and honest way. Very important here; don't overlook the designers previous experience and knowledge of your audience; after all, that's one of the reasons you chose this designer, right?
Content Creation
Of course you know your business the best, but do you know how to create the content that showcases it the most favorably and attracts your customers? If your designer does not have branding/marketing and content creation expertise, it's best to bring in the experts. In all probability your designer is part of a team of experts and can bring them in as and when is needed.
Today many professionals who provide the written content are also expert with the SEO ingredient. That's the hook that gets you found online.
Design and "The First Impression"
The graphics are what the visitor sees first, so it has to be a great first impression, and have some "glue" to keep them engaged. Check out number twelve (12) of the post I did on design for 12MOST;  12 Most Useful Insights from 100 Things Every Designer Needs to Know About People
Your experience reviewing the design for your website should be fun; design is fun. Waiting too long (what is too long?) for different iterations of the graphics or copy; not getting changes you asked for; and generally hating what is happening with the design makes for an ugly customer experience. We love quick turn around times, though we understand it's not always possible…..but keeping the communications constant can minimize a less than optimum experience.
Web Design does not necessarily happen overnight, or in sequence, but it should be synchronized and implemented together (if possible), and it's easier when your web designer is not trying to fill all the roles: profiling, branding, content creation, marketing, coding and graphic design; in larger projects there may be a project manager who coordinates all the disciplines.
SEO and Web Analytics
Simple, free solutions like Yoast, or more comprehensive solutions with companies like BeVisible Associates or DragonSearch, are all processes to help you be found, attract visitors, and find out everything you need and want to know about your website traffic.  If a page is not getting traffic, consider re-tooling or deleting that page, even if it was expensive (and of course figure out why it didn't get the views). Use Analytics to verify what works, and don't be afraid to change. It's an unpleasant experience to find out you were wrong, but even more unpleasant to keep doing it the wrong way!
Wrap:
Spending quality time with your web designer at the start of the project, planning, budgeting, understanding what their expertise is (and is not), finding out who else might be needed, how they timeline a project, what's their response time to questions and issues, how accessible are they, and what do they expect of you the client, can be distilled down to these FIVE KEY Questions that you need to ask your Designer.
Ultimately the goal is for you to end up with a fabulous web design, that creates an amazing customer experience when your customers visit your website! So why shouldn't your journey to get there be an equally pleasurable "customer experience?"
What are the best web design experiences you have had; as a client? as a web Designer?
CASUDI
Designing a successful online presence for companies and individuals since 1996
Leave a Reply